The society is a non-profit organization serving the City of Brampton, Ontario, and a member of the Ontario Horticultural Association (OHA), District 15.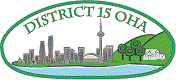 March 30th 2020 COVID-19 UPDATE
As the COVID-19 outbreak continues to evolve, we want to keep you aware of the ongoing changes in our calendar, cancellations and postponements. While we are aware that we have no timelines to work to at present, we are moving forward with plans for events on our calendar understanding they may be postponed or cancelled. That way we will be prepared for the likely, inevitability of new dates.
We have postponed the Tuesday, April 28th, 2020 "Amazing Annuals" presentation with Frank Ferragine at Lakeside Garden Galleries, Brampton.
We have announced the postponement of the District 15 AGM based on the direction from the District/OHA and the event venue closure, which is to be hosted by the Brampton Horticultural Society.
At this time we will not be making any other decisions on cancellations or postponements. The Board of Directors of the Society will be re-evaluating the situation on an ongoing basis. We will continue to monitor the information provided to us and update you accordingly. We plan to move in the direction that we feel is safe for us all to be together.
Any and all decisions will be based on the information and direction given by the Government of Canada, Government of Ontario, Peel Health and City of Brampton. We are sure you are aware and understand the suggestions to help and reduce the spread of the Covid -19
We hope that you are all well, safe and looking out for one another. While it is always positive to care about one another, there has never been a more important time than now. Join us in giving a shut out to all those going above and beyond to help keep us safe, fed and protected
It is our hope to maintain communications with our members by newsletter and e.mail.
If you are a visitor to our website and are interested in joining us please feel free to contact us at:- bramhort@hotmail.com
Current and Upcoming Events
DUE TO THE CURRENT COVID-19 PANDEMIC, ALL UPCOMING EVENTS ARE CANCELLED UNTIL FURTHER NOTICE
On the basis of  the most recent information from the City of Brampton, Region of Peel and Gov.of Ontario to put in place additional health and safety measures regarding COVID-19 we have made the following changes to our calendar:
May 16, 2020

Annual Plant Sale –

Cancelled

May 26, 2020
General Meeting and Monthly Flower Show –

Cancelled

June 14, 2020
Annual Flower Show –

Cancelled

June 27, 2020
Annual Bus Tour –

Cancelled

July 12, 2020
Garden Tour –

Cancelled
We will be establishing our new Annual Pre-order programme for 2020 in the near future. This is open to all members, friends and family. Please contact bramhort@hotmail.com for more information. Closing date for orders will be Wednesday, May 6th.